The Big Apple, located near the city of Colborne in Ontario, is well-known for its apple pies, breads, and other apple-based goodies. For anyone driving along the eastern portion of Highway 401, this is the ideal layover to enjoy coffee and dessert. We have delicious apple desserts for you (in-store and online) including cheesecakes, breads and pastries, and cookies and candies. 
Our apple pies are in a league of their own! Our famous pies include traditional apple pies, mumble-crumbled, and one of our most sought-after ones, apple caramel. Sweet, golden-brown, buttery caramel folded into a stunning pastry crust, it's an apple lover's dream. We also have diabetic-friendly, gluten-free savory and non-savory options you can choose from if you have special dietary needs. 
Apple Pies Our Customers Can't Resist
Rich, delectable, and crispy, our apple pies are widely loved by our consumers. Here's a list of our most popular apple pies. 
Traditional Apple Pie
The authentic American apple pie that's made with lightly spiced apple filling and a flaky, buttery crust. With several layers of freshly sliced apples packed between two layers of crust, this classic recipe is reminiscent of your childhood. The zesty flavor from freshly squeezed lemons enhances the taste of the apples and cuts through the sweetness of the sugar to create a perfectly balanced dessert.  
Mumble Crumble Apple Pie
Another customer favorite, the mumble crumble is prepared in a traditional pie crust and topped with homemade crumble topping. The topping is made with rolled oats, brown sugar, and margarine. It has a super flaky crust, saucy apple filling, and a crunchy crumb garnish – an absolute treat for your taste buds. Serve with a scoop of vanilla ice cream or a dollop of whipped cream.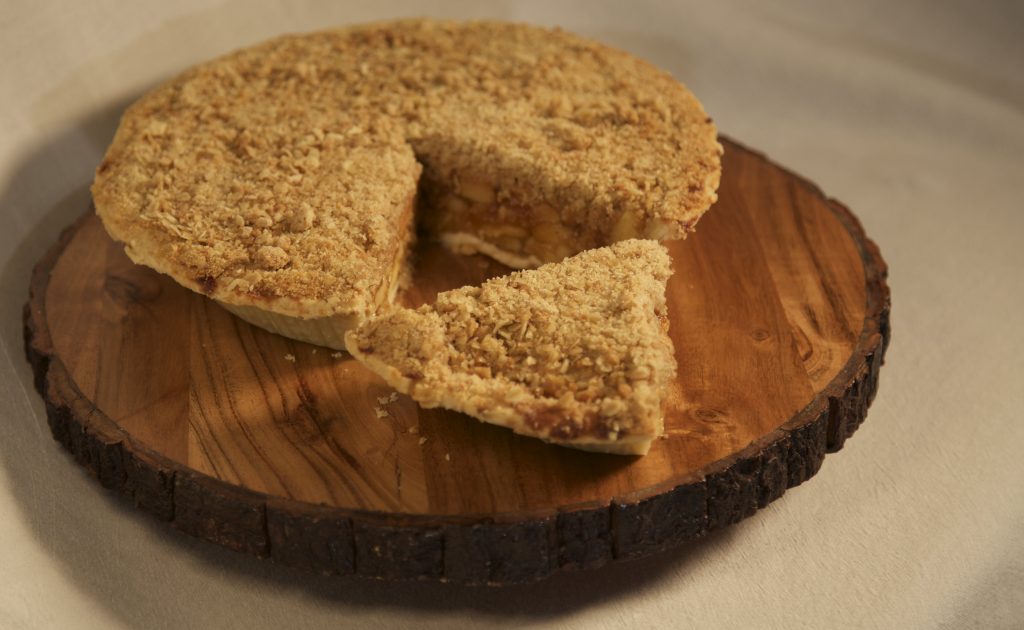 Dutch Apple Pie 
Our dutch apple pie has an added layer of creamy custard and raisins between traditional pie crust. A delicious streusel topping, made with brown sugar, cinnamon, and butter, has elevated it even further to become a new family favorite. 
Apple Maple Pie 
A truly Canadian apple pie made with 100% pure and natural maple syrup and topped with a traditional pastry top. Even better than the traditional apple pie, our apple maple selection is made with maple roasted apples that are tossed in maple sugar before they're baked to perfection. 
Craving one right now? We're now taking online orders for customers or a pickup option for those who don't live close to Colborne. Our online delivery app provides users with a great interface and easy navigation. Download it on the Google or Apple store to start ordering online.