The best thing about August in Canada (other than the warm summer, of course!) is the fact that we have a holiday on the first Monday of the month, which means you get to extend your weekend by an extra day. The second long weekend of the summer – how exciting! 
Why not take advantage of this extra holiday? Use the long weekend to make travel plans, host a barbeque or picnic, or just get together with friends or family for a relaxing night. 
Honey and Honey Apple Pie Event 
To help kickstart your Civic Day festivities, The Big Apple brings to you our Honey and Honey Apple Pie Event from July 31st – August 1st, 2022, 11 AM to 6 PM, at our signature store in Colborne, Ontario. You can participate in the following activities with your family and friends.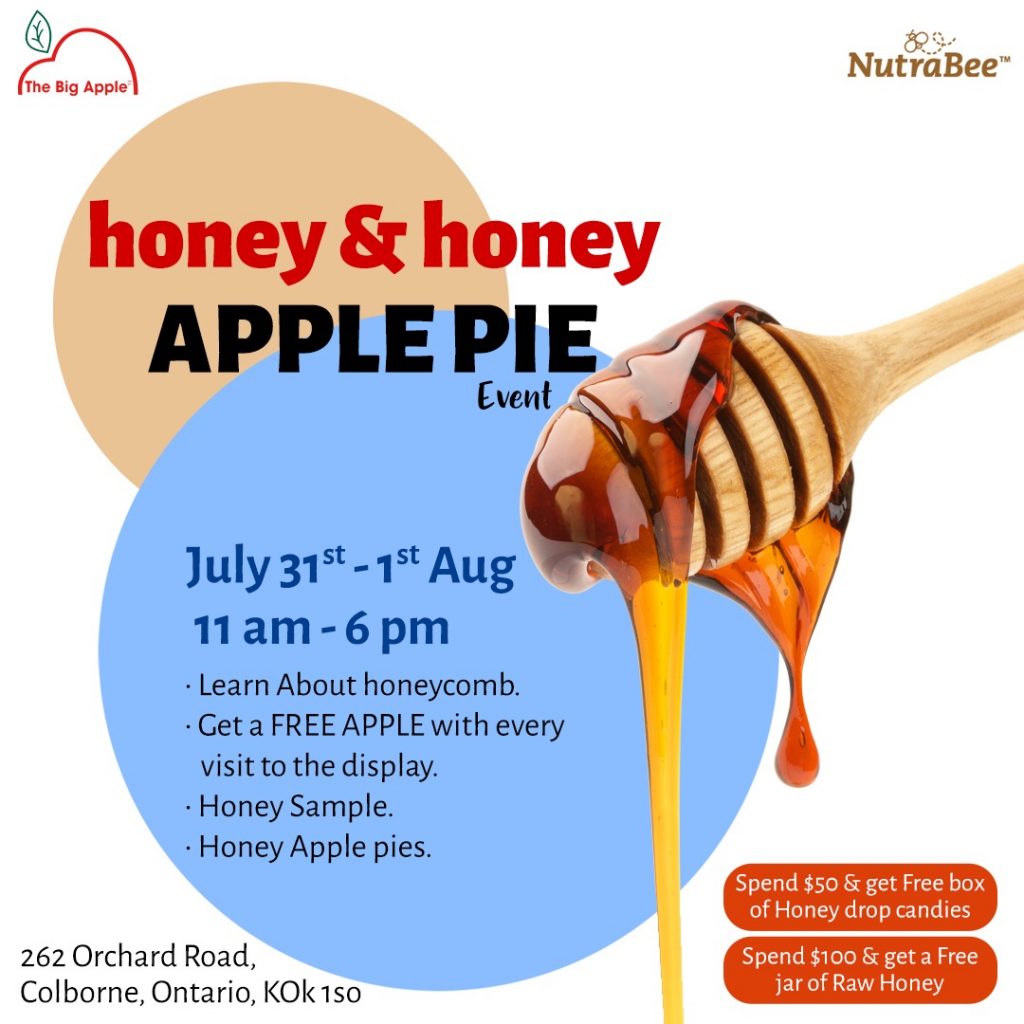 Learn About Honeycomb Construction
The honey bee comb is truly a masterpiece of nature. The highly symmetrical, two-sided hexagonal structure is perfect for containing larvae and storing honey and pollen. Elaborate though they may seem, they function to maintain a natural balance in the ecosystem. 
Visit The Big Apple to learn more about honey bee comb construction and honey production. Investigate how honey bees construct combs out of wax to create a complex structure that stores honey, plant nectar, and houses larvae. 
Honey Apple Pies and Honey Sampling
For those of you who are more interested in wolfing down our delicious honey than in learning about it, you'll find honey apple pies and honey sampling stations on our premises. 
We have honey by Nutrabee where each jar is prepared using only the best organic and raw ingredients. The honey is extracted fresh from beehives and blended with organic herbs to create a high quality, nutrient-rich product that is beneficial for the whole family. 
You can also try out our honey apple pies – a perfectly balanced dessert with the sweetness of the honey cutting right through the acidity of the apples. A stunning crust of pastry on top and a delicious crisp base underneath, they're an apple and honey lover's dream. 
Civic Day Long Weekend Discounts
Enjoy a variety of discounts on our honey-based treats and candies. Spend $50 and get a free box of honey drop candies or spend $100 and get a free jar of raw honey. 
So, hurry up and join us at The Big Apple this long weekend for the Honey and Honey Apple Pie Event. We'll be waiting for you!