Nutrabee honey is prepared using only the best organic and raw ingredients. The honey is extracted fresh from beehives and blended with organic herbs to create high quality products that the whole family can enjoy. The pure and untreated honey is packed with vitamins and minerals, and works as a natural antibiotic that is free from any side effects. 
According to Fatima Basic, Nutrabee owner and founder, "Our goal is a simple one: my friendship with honeybees and my passion for the healthy power of herbs helped me regain my health. Now I'm helping others improve their health." 
Research suggests that organic honey is enriched with antioxidant and anti-inflammatory properties and helps relieve respiratory issues such as asthma, sore throat, and cough. It's also an excellent alternative to sugar for regulating blood sugar levels and cholesterol. 
Exciting Honey Varieties at The Big Apple
At The Big Apple, we have a variety of Nutrabee honey options available, ranging from ginger bee and turmeric to apple blossom and bee pollen. We've also incorporated Nutrabee honey into our delicious apple pies to create a perfectly balanced dessert.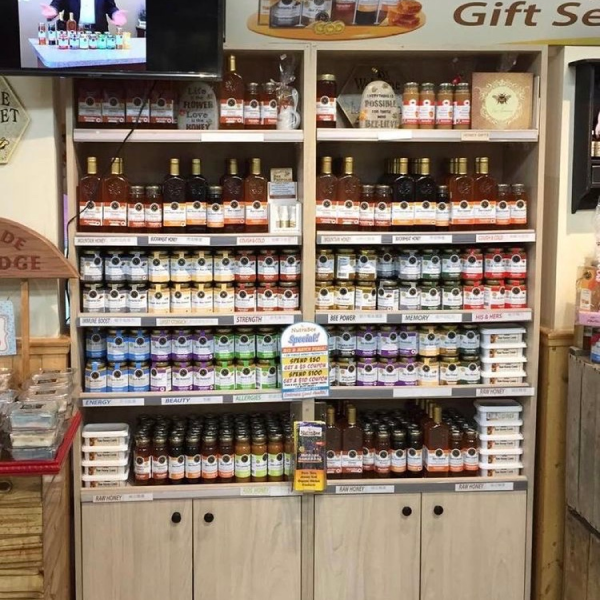 Here's a list of honey varieties available at The Big Apple that also have excellent health benefits. 
1.Ginger Bee Honey
100% natural Nutrabee honey infused with fresh ginger extract, this concoction is excellent as a herbal remedy to detoxify your body and manage weight loss and digestion. Packed with antioxidants, vitamins and minerals, ginger bee honey can be used as a natural sweetener on pancakes, ice cream, or bread. 
2.Bee Pollen Honey
A mixture of flower pollen, nectar, and enzymes, bee pollen honey has gained popularity in the health community because it's loaded with nutrients and active substances, including carbohydrates, proteins, vitamins and minerals. It's used as an immune system booster and for gastrointestinal problems because of its anti-inflammatory properties. 
3.Apple Blossom Honey
Spring in a jar! Nutrabee apple blossom honey is raw and unprocessed, known for its beneficial properties and therapeutic effects. Most of the nectar that goes into producing this variety comes from apple flowers i.e., the pollen of apple blossoms. 
4.Maple Syrup and Honey
Rich and delicious, Nutrabee maple syrup and honey is made with all-natural Canadian maple syrup and pure, unprocessed Canadian wildflower honey. A wholesome sweetener that can be consumed at breakfast, brunch, and dessert. 
5.Turmeric Honey
Nutrabee organic turmeric comprises numerous healthy compounds, including potent curcumin, vitamin B6 and C, iron, manganese, and potassium. Combined with organic honey, this makes for a superfood that has exceptional nutrient density.