If you're driving along the eastern portion of Highway 401, you're bound to spot a massive, red apple sitting in the field near the village of Colborne. This is none other than our beloved mascot, Mr. Applehead, who takes pride in being the world's largest apple-shaped structure. You can enter the door at the base of the apple itself and climb up to the observation deck to get a magnificent view of the Cramahe township in the village of Colborne. 
How it Started 
The Big Apple was the brainchild of George Boycott, an Australian immigrant who took inspiration from The Big Pineapple in his hometown in Queensland, as well as from Walt Disney World Resort in Orlando, Florida. The same way Walt envisioned an amusement park which would bring to life his cartoon characters, Boycott created Mr. Applehead with hopes to someday be the centerpiece of a burgeoning theme park. 
Driven by his vision, Boycott sold the 6 pizza stores he owned in Australia to move to Colborne in 1976. He routinely met up with locals to share his ideas and after nearly a decade, his dreams of a magic kingdom rubbed off on Henry Mensen, a local builder, who undertook the construction project. 
The Big Apple finally opened in 1987 and became popular among visitors as an oddball roadside attraction. They especially enjoyed the fresh apple pies that were baked in its own pie factory under the watchful eyes of visiting patrons. 
Northumberland County Apples
Northumberland County is the fourth largest apple producing area in Ontario. The village of Colborne in Cramahe township, Northumberland County, Ontario, enjoys a rich agricultural history that has brought both prosperity and continuity to the region. If you drive along any main street in Colborne, you can see large cardboard cutouts of bright, red apples hanging from its street lamps. This is the town's way of paying homage to its beautiful apple orchards, stretching over an area of approximately three thousand acres.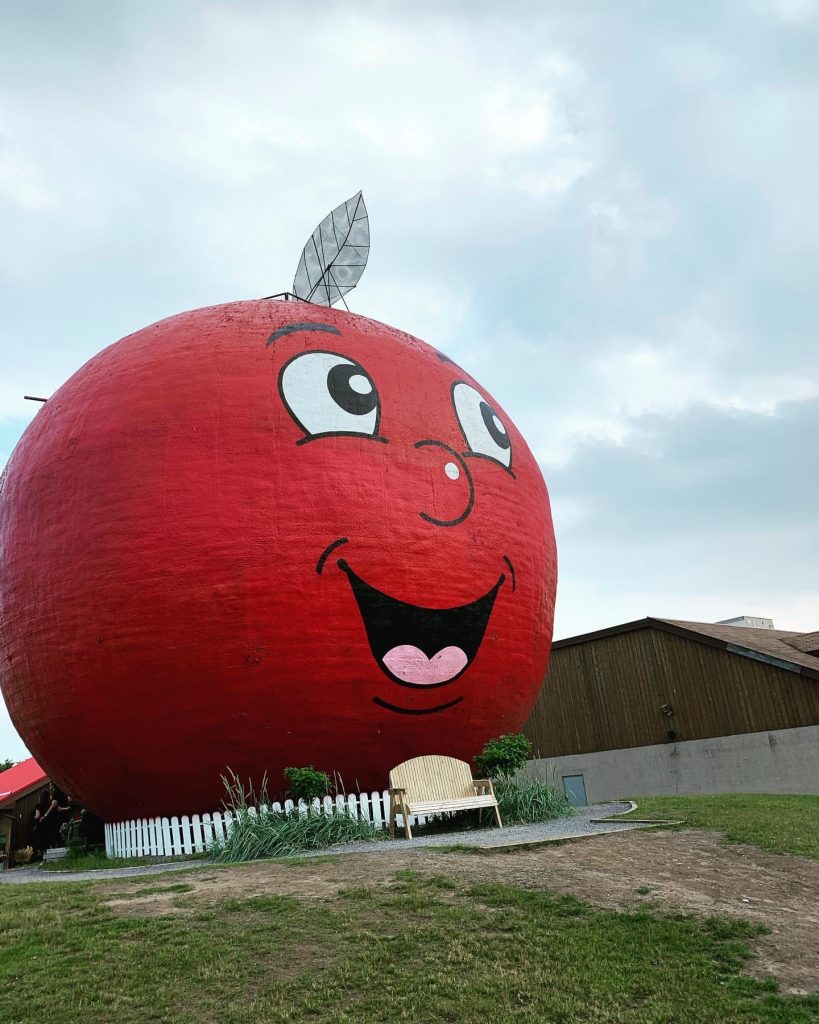 Just off Highway 401 in Colborne, Northumberland County, sits Mr. Applehead in all its glory. The massive apple is easily recognizable from the highway and invites thousands of tourists to The Big Apple every year. Apples from the apple orchards are harvested for use at the restaurant, where visitors can see their apple pies being baked right before their eyes. It doesn't get any better than this! 
Apple Pies and More 
Here at The Big Apple, we provide you with a homely, family farm atmosphere where you can enjoy a variety of apple pies including apple crumble, apple maple, apple caramel, dutch apple, etc. We even have sugar free apple pies, only sweetened with gourmet Nutrabee honey, to cater to your sweet tooth in a healthy way. Our on-premises pie factory ensures we deliver consistently excellent quality by doing everything in-house, from straining apples to making dough. The aroma of freshly baked apple pies wafting through the entrance is sure to invite you in for a slice!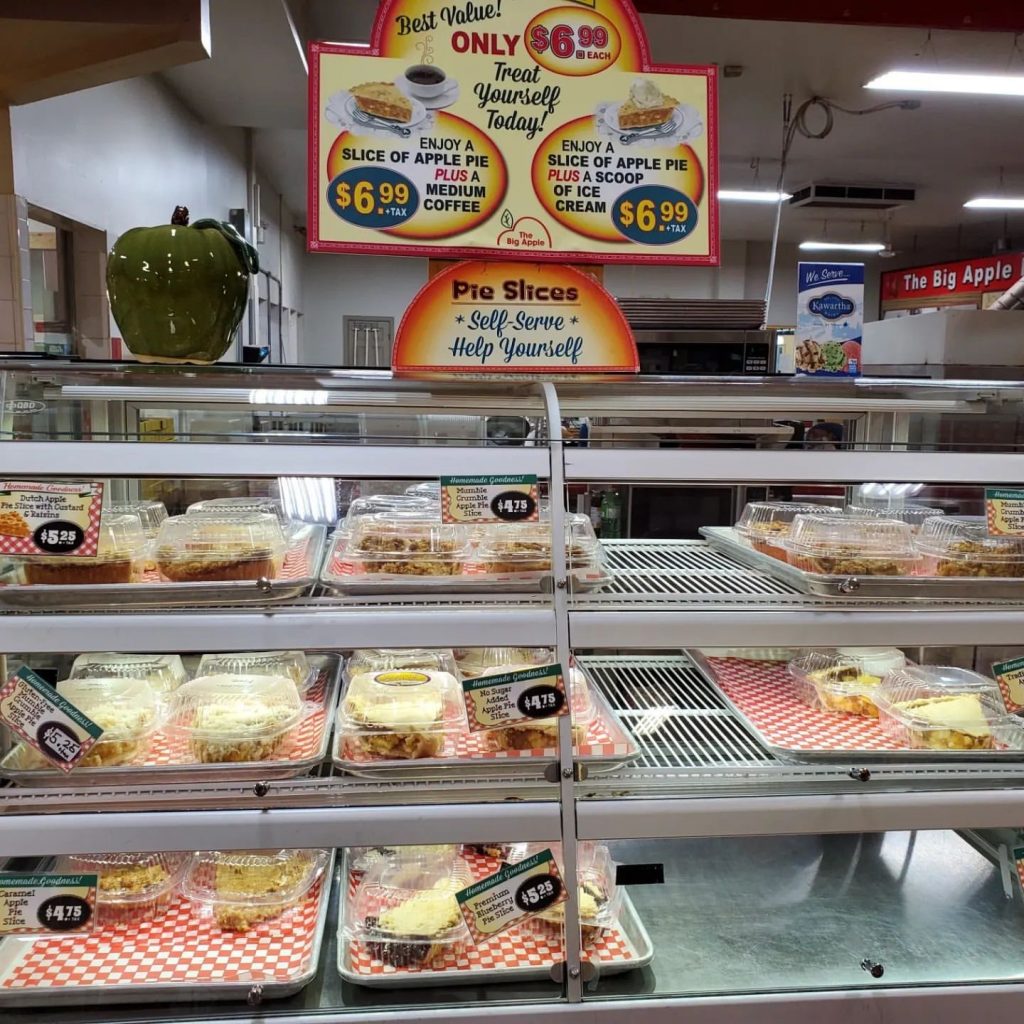 In addition to our world-class apple pies, we have a dine-in restaurant, a souvenir store, an amusement park, a miniature golf course, and an outdoor picnic area. Our cafeteria-style restaurant has many breakfast and lunch menu options for adults and children alike. We also have an apple cider brewery that offers free cider sampling and a wonderful selection of bottled apple cider blends. 
So, next time you find yourself driving along Ontario Highway 401 and see a gigantic apple smiling right at you, make sure you drop by for a warm slice of apple pie and a steaming mug of coffee!