Home to delicious apple pies, breads, and other apple-based treats, The Big Apple is an ideal place for customers to enjoy a steaming mug of coffee and a warm slice of apple pie. We bake our pies fresh every day in our on-premises pie factory. That too, right before your eyes! You can watch our workers as they carefully roll out the dough, prepare the apple filling, and place it in the oven to bake. It's a treat for all your senses as the buttery crust bubbles and puffs together, while the aroma of freshly baked apple pies wafts through the restaurant. 
We are now pleased to offer a diverse and growing selection of gluten-free products including apple pies, apple bread, traditional granola, maple crunch, and macaroons. Our pies and granola are made on-site, while the breads and cookies are delivered from the nearby Ste. Anne's Bakery. You can now order online and have it delivered to your doorstep, or collect your online order from Johnvince Foods, a wholesale food supplier in Toronto, Ontario.
Classic Range of Gluten-Free Products 
We have a range of diabetic-friendly, gluten-free savory and non-savory options you can choose from if you have special dietary needs. Some of these are as follows:
1.Gluten-free Apple Pie
A gluten-free version of our classic apple pie with a buttery crust surrounding freshly sliced apples, finished with a gluten-free streusel topping. You can enjoy this delicious dessert without worrying about gluten, sugar content, or carbs.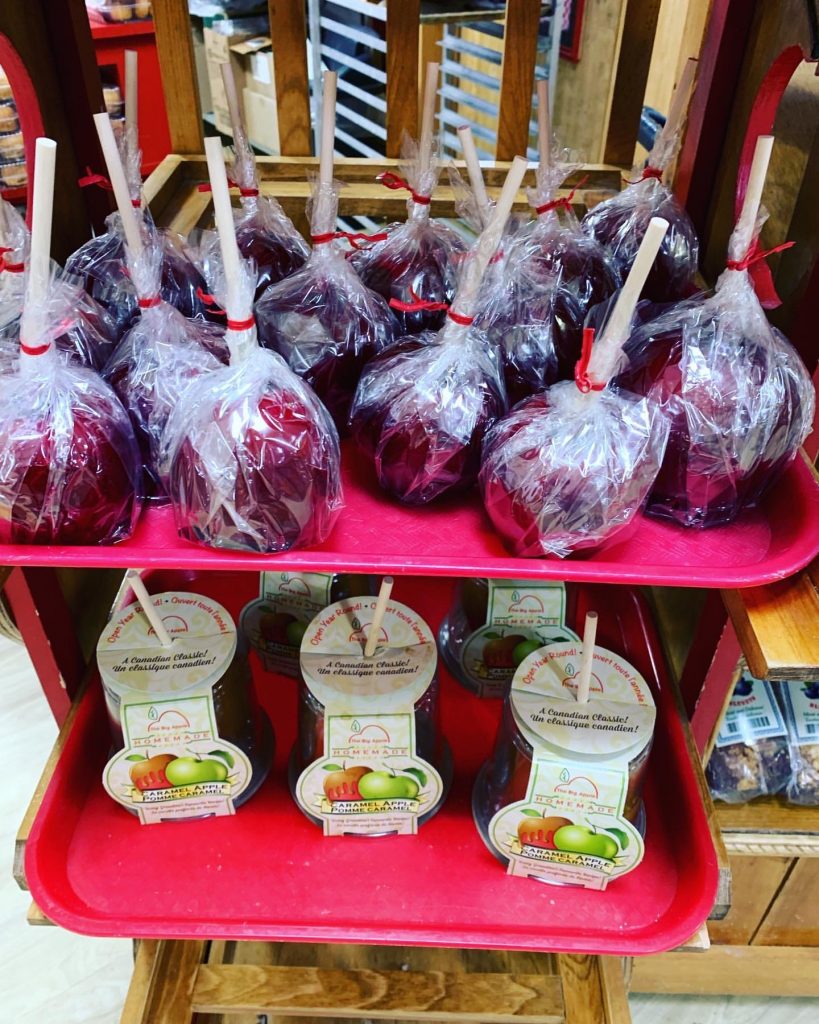 2.French Apple Cake Squares
With a rich, custardy base and a crisp sugary topping, this gluten-free recipe will keep you coming back for more! Our advice? Warm it up in the microwave oven and serve with a scoop of vanilla ice cream or a dollop of whipped cream. 
3.Gluten-free Granola 
Our traditional granola makes for a wonderful snack or breakfast that is both delicious and healthy. Freshly baked in our on-site factory, it's made with whole grains and natural sweeteners, perfect for a healthy start to your day! 
4.Maple Crunch 
We have Maple White Chocolate Butter Crunch and Maple Cashew Crunch, another tasty treat for anyone with gluten intolerance. Made with crunchy pecan and buttery toffee, it's a go-to option for those looking to satisfy their sweet tooth in the healthiest way possible. 
5.Gluten-free Bread
Delivered from the nearby Ste. Anne's Bakery, our gluten-free bread is a great option; it's soft and chewy, with a deliciously caramelized crust. You can choose between Cheddar & Herb Bread and Five Seed Bread to prepare a breakfast you'll actually want to wake up for!
Visit our store in Colborne, Ontario and watch our summer activities in full swing or visit our website to order online. We look forward to seeing you soon!